Winter Riding? Am I Crazy? For years I was a seasonal biker. I would get out a few times a week when the weather was nice. Fall would arrive, the temperatures would drop, and my bike would move to the back of the garage, waiting for spring. For me, biking was a summer hobby. It was a good way to work off the extra pounds that found my waistline every winter. I would see someone out biking in the winter and wonder how they did it, and more so why. Were they crazy? Why would anyone in their right mind ride in such cold weather? My attitude slowly started to change a few years ago when I noticed a co-worker, Jon, riding to work year-round. I had been commuting to and from work on a regular basis. I'd ride when the weather was nice, but I opted for the warmth of my car when the weather turned cool. Jon, however, continued to ride as the temperatures dropped. I'd see him and joke that he was crazy to ride in the cold. He assured me that the cold wasn't a problem as long as he dressed for it. The weather continued to get colder, and Jon continued to ride. I became intrigued with the idea and wondered if I should try it. I started asking Jon a lot of questions about winter riding. What layers of clothing worked for different temperatures and weather conditions? How do you navigate in icy and snowy conditions? Does it bother you that I think you're crazy?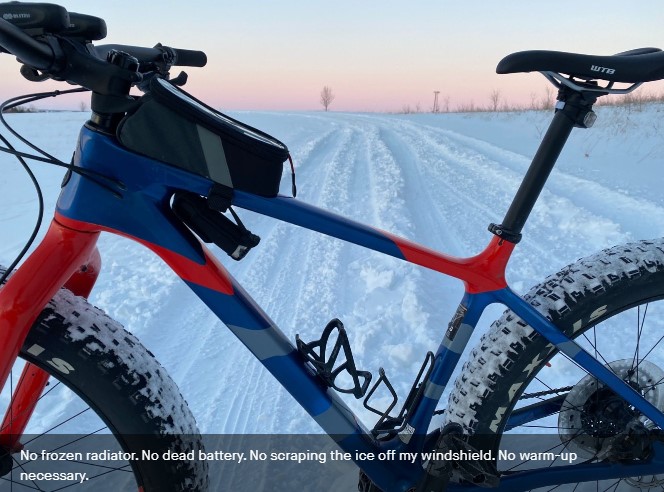 Last winter I saw a Facebook post for "The Frosty Ride". I decided this might be a good opportunity to give winter riding a try. I called my Brother-in-Law Brion and we talked about signing up. Brion and I ride together often, and over the years we have held each other accountable to our riding commitments. Most of the time our "holding each other accountable" is done by pestering and ribbing each other. Often, we take it to the point where any pain from riding pales in comparison to the pain from the jabs and insults we would toss each other's way for not riding. Nothing is off limits. We question the others strength, endurance, willpower, intelligence, looks, and manhood. Neither of us wants to endure the wrath of the other, and it's become quite a contest to come up with the most creative way to heckle each other if we miss a ride or two. It If you didn't know we really liked each other, you would swear we were enemies. When I asked Brion if he wanted to tackle the Frosty Ride his first response was "you know, it's cold, right?" Game on. I started to sort through my mental rolodex of jabs and instantly agreed with him. "You're right, it probably is too cold….for you." Like that we were both signed up. The day of the ride came, and the conditions were perfect for a maiden voyage into winter riding. The sun was out and the forecast was for a high above freezing. The ride started and ended at Code Beer, and every rider got lunch, a t-shirt and a chance to win a bike. I couldn't ask for more. Food, clothing, beer? All of my needs were covered. To top it off, guess who won the bike? This guy right here!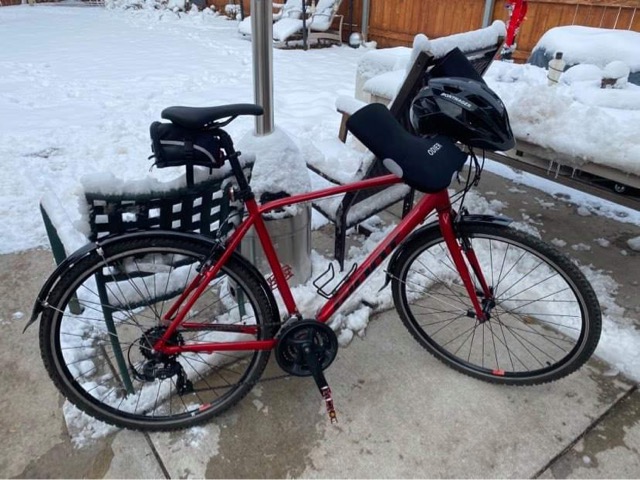 Brion and I completed the ride and I learned two things. First, I was really out of shape from not riding for the last few months. Second, the cold wasn't that bad. I actually got a little warm while I rode. Maybe Jon, my year-round commuting co-worker, wasn't crazy after all? I decided to explore the idea of winter riding a little further and started riding a lot on weekends. By the end of February, I purchased a pair of warm cycling pants and some other winter gear. I made a commitment to bike to work as often as possible. I decided that the cold was only an obstacle if I let it be and began commuting during the week. I completed longer rides on the weekends. Soon enough it was spring, and I was hooked. I committed myself to commuting year-round.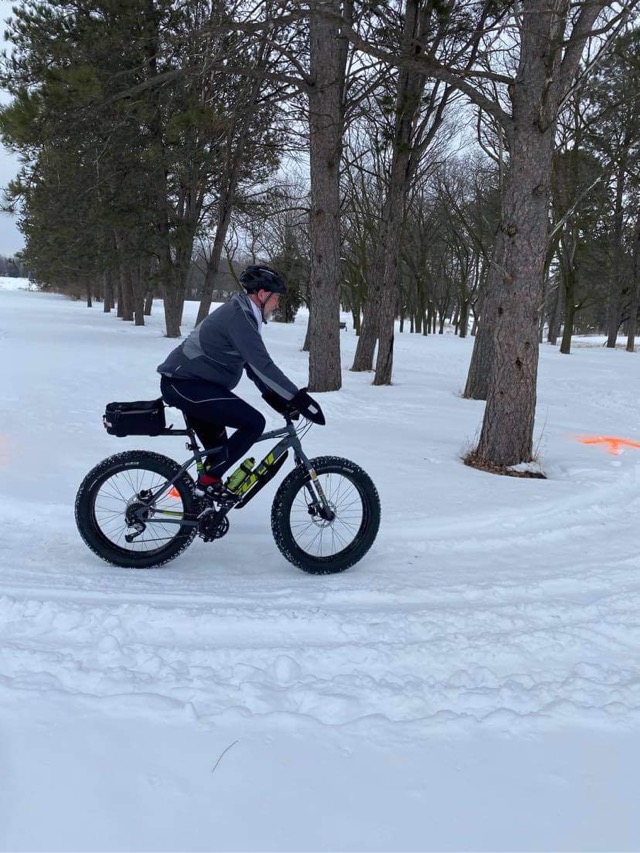 Over the next few months, I looked for deals on winter gear. I picked up a jacket or pair of pants here, some gloves and goggles there, and was ready for the winter weather by the time fall hit. It's truly been a joy riding to work through the fall and winter. I actually prefer it over driving. I've been able to adjust the layers of clothing I need to make myself comfortable in most riding conditions and I don't ever remember getting to my destination and feeling too cold. My advice to anyone who's thinking about winter riding is give it at try. You might be crazy about it. Ride on!
**I love to ride and talk about riding but by no means am I an expert. Feel free to ask questions or share advice.
Jamie Wenz
Next week: Jamie and Brion take on the Ididaride and the Frosty Bike Ride in 2021.