I don't think it matters much if you're a gravel lover or a gravel hater to love what draws people to it. The past weekend's event, Gravel Worlds, has grown by leaps and bounds, yet has still managed to keep to it's roots and even strengthen it's appeal as a gravel "family reunion" where all are included. It's been really great to read other riders' posts about their experiences and see the amazing photos.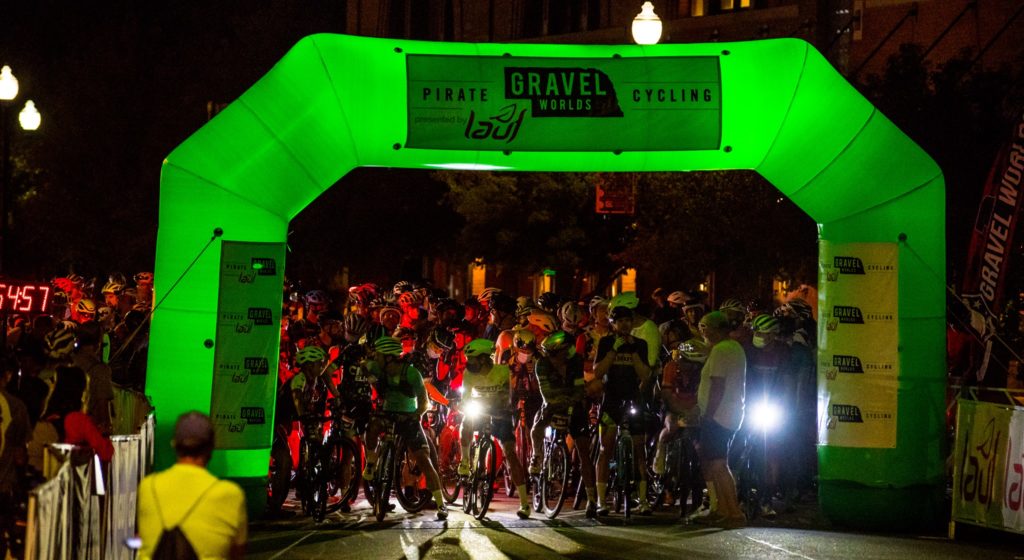 From the scorchingly fast (usually on road) 150 mile racer not entirely comfortable racing on gravel that crashed, yet still finished, to the I-meant-to-do-more-training riders in the 50k and even the 75 mile distances, the consensus seems to be that it's the fellow riders that make the event.  Not only do they assist with the crashes or mechanicals or problems with nutrition or cramping, (racers are not allowed off-course help) but they even make it enjoyable in spite of those mishaps. We're all in it together, and your "gravel family" won't leave you alone by the side of the road it you don't want to be.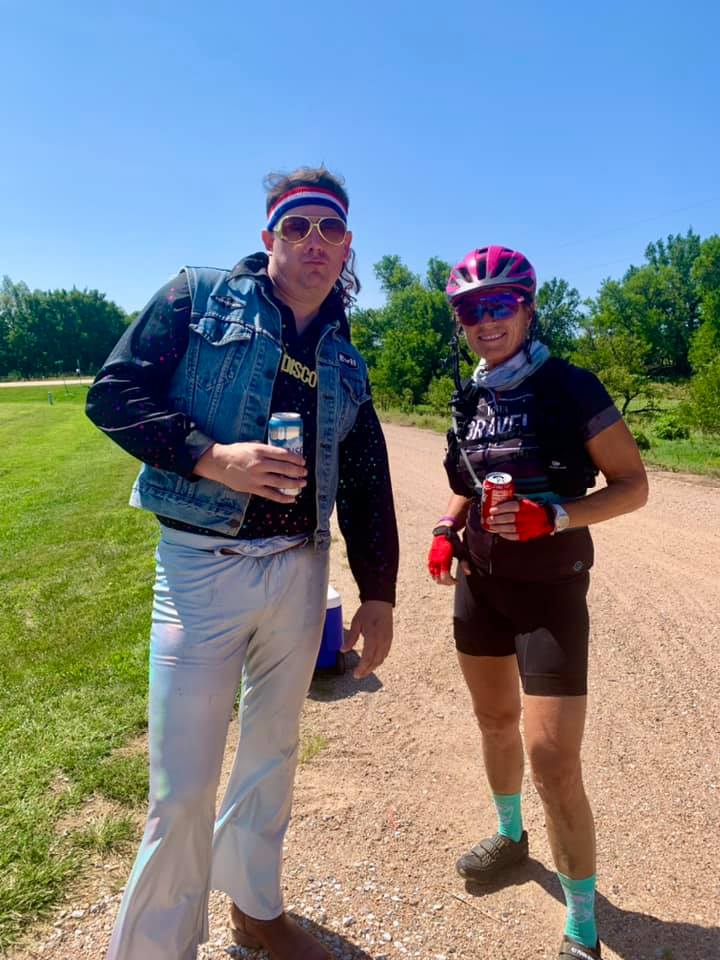 None of it would be possible without the amazing organizers. From it's pirate beginnings staging ten riders (I think) in a racer's family farmyard using obligatory convenience store purchased lottery tickets (to prove they didn't cut course) to the chip readers, showers, and 1700 racers of today, it's grown to now four distances, with the 300 mile Long Voyage added this year. They probably haven't had a good night's sleep for weeks. Of course the organizer's couldn't have done it without a raft of volunteers providing at least 1200 hours from Thursday through Saturday, some on the job at 3:00 A.M. registering, directing traffic, filling water bottles, and cheering on tired riders. I wish I could include everyone's outpourings of gratitude.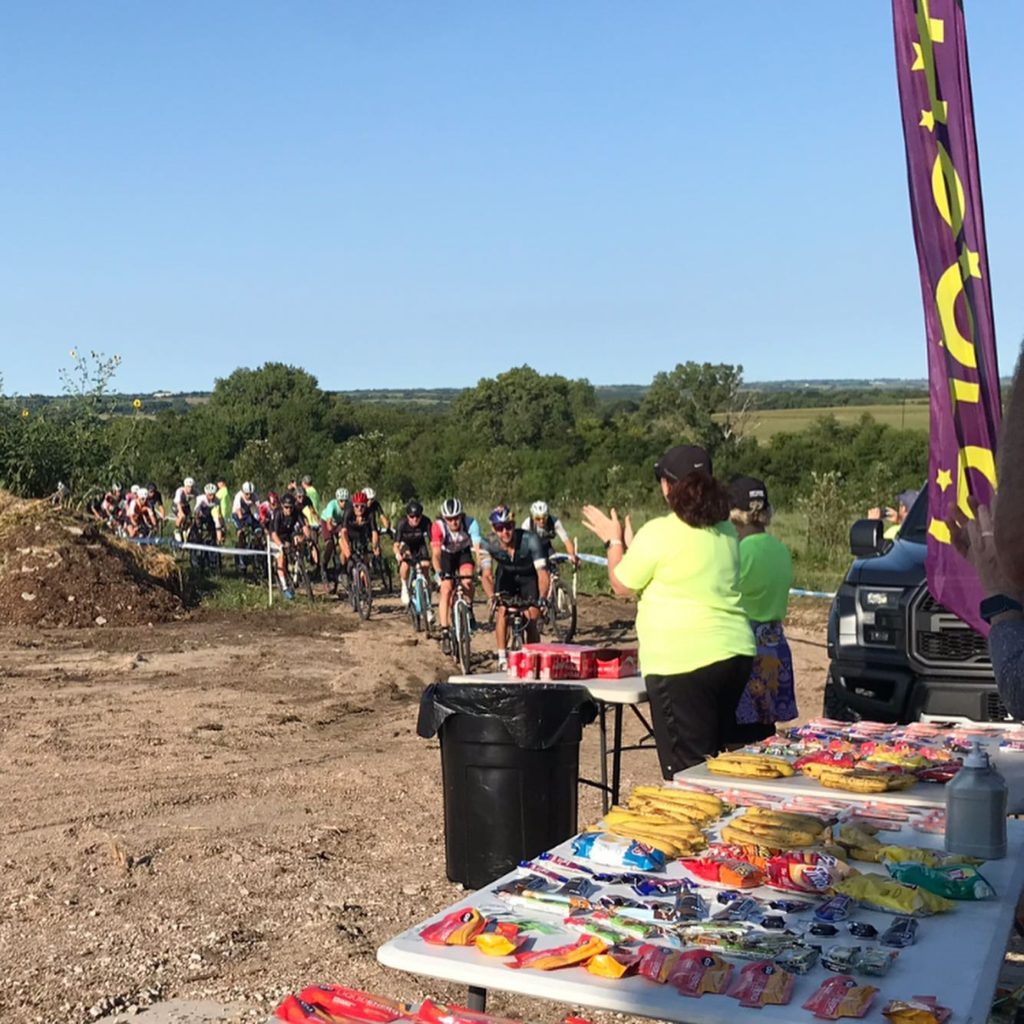 I cannot guess everyone's different motivations for racing Gravel Worlds. Many probably want to give it all they've got to know what they're capable of. That may involve the highest levels of racing. Others want to spend a fine day with friends at an activity they all love, squeezing out every drop. Every rider probably enjoys a good sufferfest. A couple of friends of mine raced it for the first time this year, and one who did the 75 wants to race the 150 next year. A self -described road rider, it seems like he's been bitten by the gravel bug. He's scheming how to get more gravel training in when few where he lives ride it. If not necessarily requiring a different bike, it at least requires different tires, so if you're contemplating how to go about it, you may be able to try it out with a second wheelset of gravel specific tires. Most are a little wider, 38s are common, but I prefer 43s. They are also generally a little knobbier, but some have a smooth strip down the middle, making them more versatile to better ride hard-pack and pavement. I prefer the extra grip, not liking the feeling of skating on ball-bearings on a long descent. Of course corners take practice, you can't take them as fast as you might on pavement, but you learn. And there's a little more resistance, and skill involved, but it's more than made up for with less and slower traffic, better views, and I think, aesthetics. I could go on. To read more about the race go to Pirate Cycling League/Gravel Worlds on Facebook, or gravel-worlds.com/.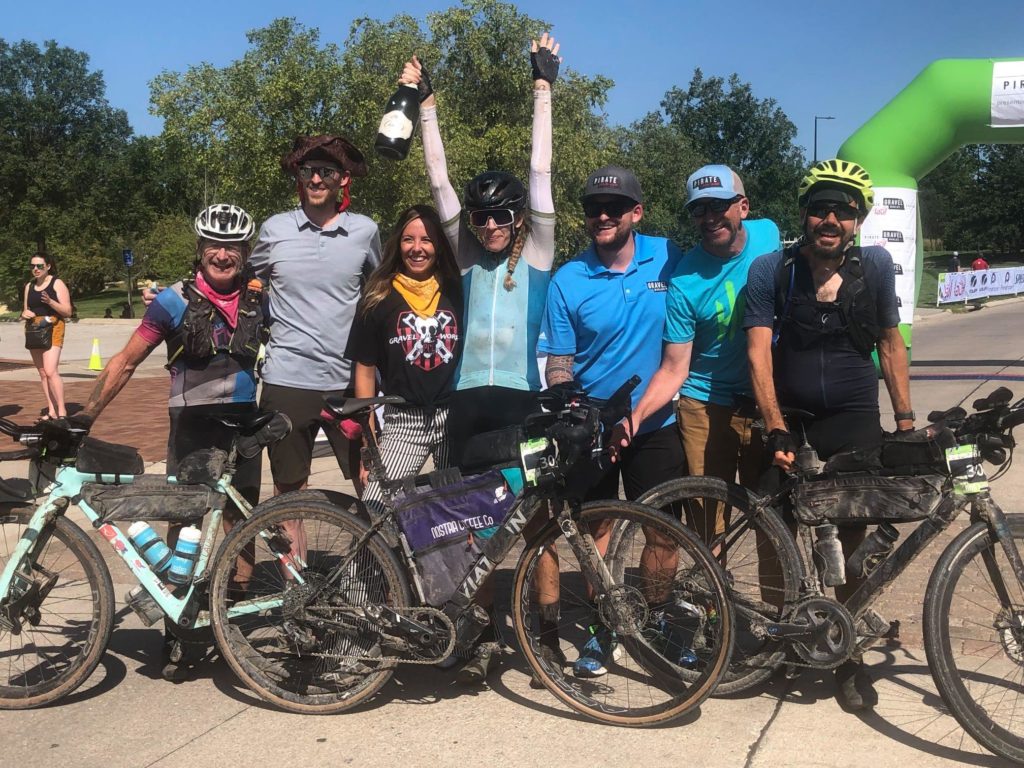 I'd like to give a special shout-out to local hero Robb Finegan, featured in this blog last winter. With the Long Voyage he was the only athlete of 2021 to complete the Iowa Wind and Rock, Unbound Gravel XL 350, and Gravel Worlds Long Voyage 300. 1,001 miles with over 38,000 ft of elevation.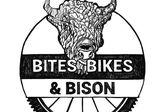 In Lincoln we like to ride bikes. We probably couldn't ride Robb's kind of mileage, and most people haven't tried gravel (I don't mean crushed limestone trails) but I think all of us could enjoy riding Bites, Bikes, and Bison at Pioneers Park September 12 from 11:30 to 3:00, meet at the Nature Center.
Also, Goldenride is coming up September 18 and 19. Wouldn't you like to ride the Homestead Trail to Beatrice, be entertained, fed and regaled, have your gear hauled for you, camp out, and ride back the next day? Of course you would! It's a fundraiser for Bike Walk Nebraska and promises to be a good time for all.