Teamwork and Conditioning Lead to Top Podium for Lancaster Composite
The inaugural race weekend for Nebraska Interscholastic Cycling League (NICL) was held this weekend at Arkfeld Acres. Approximately 90 racers registered to participate in the races held for grades 6th-12th and the events were nothing short of amazing for everyone that has waited anxiously for races to begin. The time trials that were held in 2020 kept the student athletes safe, but racing was a whole new experience. The athletes registered with Lancaster Composite come from a range of schools and communities in the County. Coaches and athletes have built an environment that helps them to excel individually and as a team. Audrey Saksena was our 2020 Spirit Award winner and returns this year to race Junior Varsity. We asked her to share her thoughts about this year's team.
"This year Lancaster Composite has 18 riders one third of which are female, the highest female to male ratio in the league. We practice every week to work on learning and improving our skills. Everyone on the team is super supportive and kind. Some people are really competitive while others are there more to have fun. There are also many beginners as well as experienced riders. The more experienced riders give help and advice to the beginners and the beginners have people to look up to and follow. We always cheer each other on and help out where we can. I'm really proud of how far this team has come after only a year of being established. I love the sense of community and the supportive environment the most and I will certainly stay with the team as long as I can.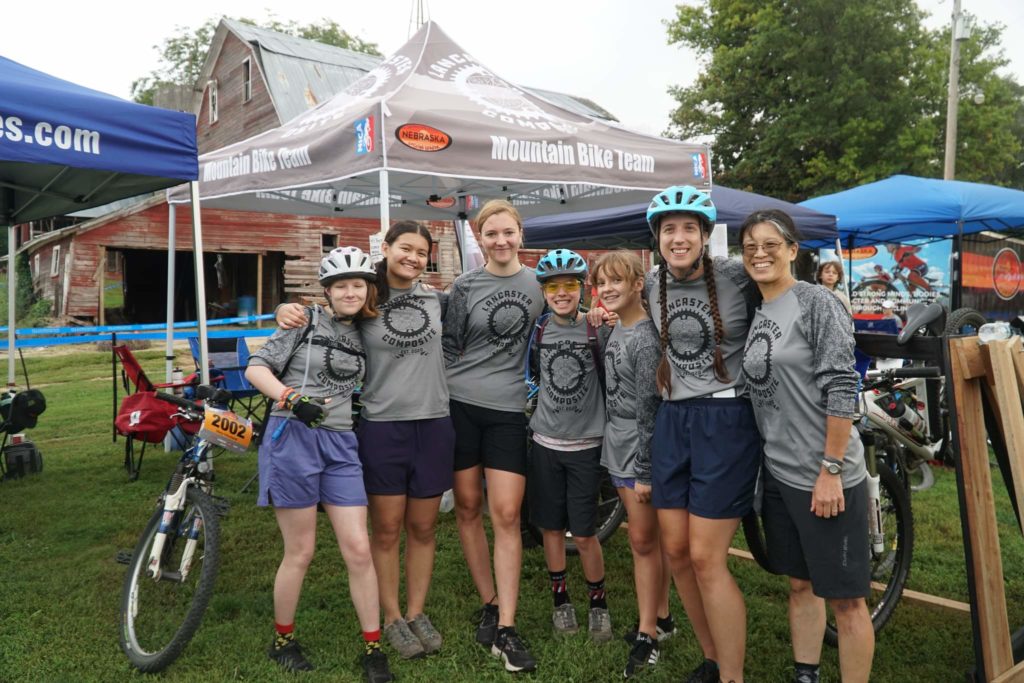 Lancaster Composite added three new girls to our team in 2021.
Audrey continued, "This weekend we had our first race at ArkfeldAcres. Almost every member made it onto the podium and our team placed first overall. Going into the race, some people were nervous or didn't expect to do very well. Even so they went out there and gave it their best shot and did much better than they thought they could. Even while they were tired and in the middle of a race, they cheered for everyone and offered words of encouragement to continue strong. This year we hope to continue building skills and improve so we can take on harder trails and faster opponents. Our team focuses on inclusivity, equity, respect, fun, and building our community so we can have the best environment to help us learn and be encouraged to continue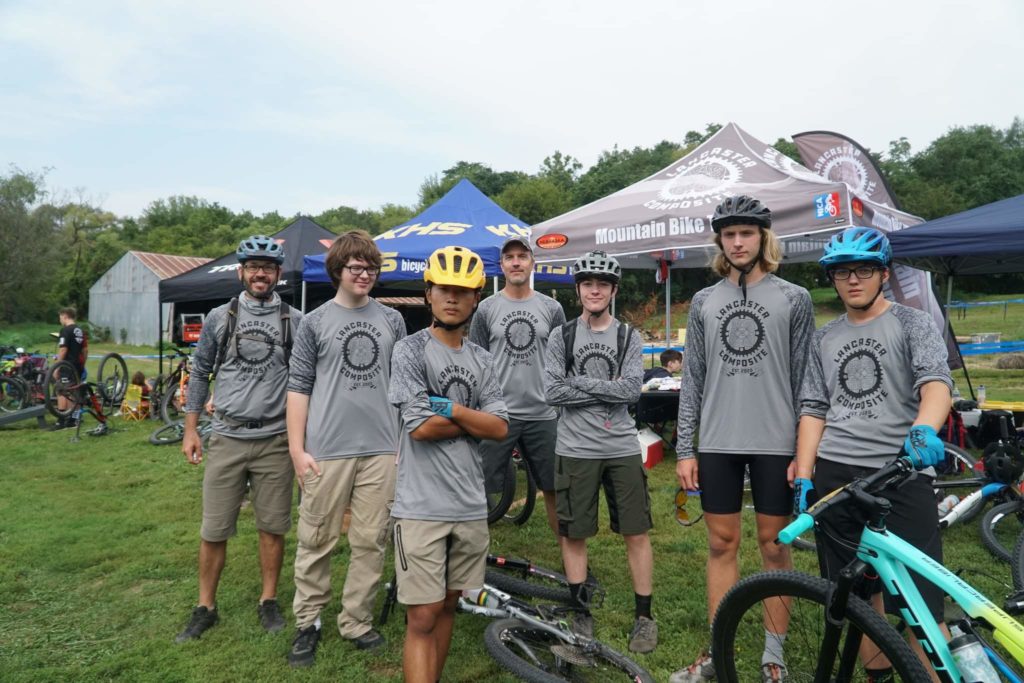 The boys added five additional racers to the team for 2021.
By the end of the events Sunday, Lancaster Composite had secured 11 medals and one 1st place team award. Leader jerseys were won by Seth Tellinghuisen (Varsity), Nigel Chapman(Junior Varsity), Audrey Saksena (Junior Varsity), and Jamison Hoffman (Sophomore). First time mountain bike racer Calla Harris was overheard after her event saying, "That was my first mountain bike race! It was pretty awesome, not gonna lie!" For coaches Brian Drahota, Yun Saksena, Jesse Poore, and Whitney Drahota, the sentiment is shared.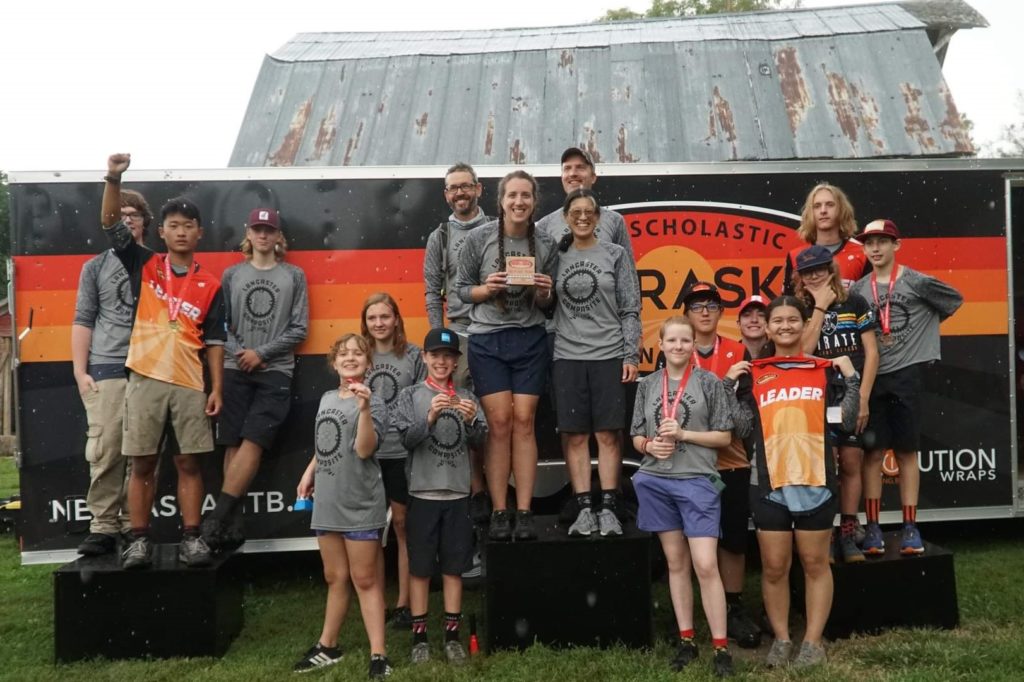 Thirteen racers and four coaches take 1st at inaugural event of the 2021 season at Arkfeld Acres.
The season continues through October with races at Maskenthine, Bacon Creek, and Branched Oak still to come. Student athletes are welcome to join the team anytime during the season. Send an email today with questions to lancastermtb@gmail.com or find us on Facebook @LancasterCompositeMTB for information and more photos. Practices continue to be held Thursdays at Van Dorn Park and watch for more information about a special event October 30th in partnership with Indian Village Neighborhood Association where you can come out and meet the team.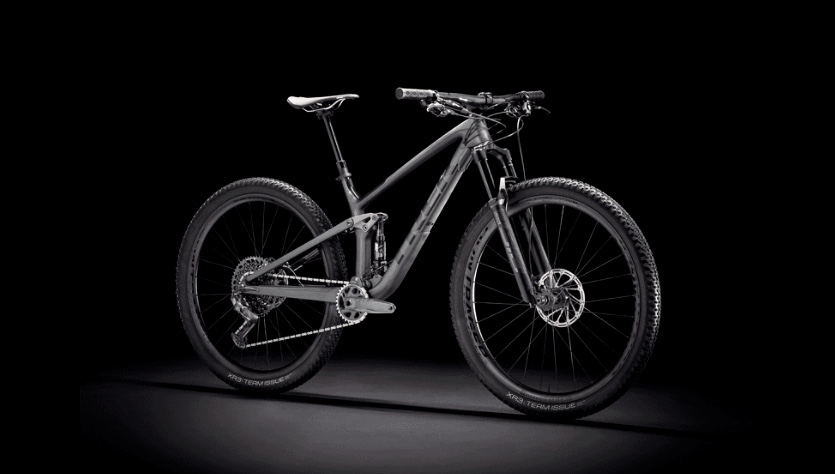 A 2022 Trek Top Fuel 9.8 GX full suspension mountain bike could be yours!
Adding to the energy surrounding the league this year is an amazing giveaway sponsored by Trek who has donated a 2022 Top Fuel 9.8 GX full suspension mountain bike, Bontrager helmet and light set. The league has set a fundraising goal of $20,000 to help offset the costs of race production and to build league capacity. The giveaway is being hosted online and all entries (10 for $25 and 50 for $100) must be purchased through https://nebraskamtb.rallyup.com/2021trekgiveaway/Campaign/Details Half of the money goes to the teams and the team that raises the most money takes home and additional 10% of the funds. Coach Jesse says that Lancaster Composite funds will be used for outfitting our team in proper gear for 2022, developing scholarships and loaner bike program, as well as outreach and coach development. We anticipate growing the team in 2022 and need the Lincoln's help. Select the number of entries and then select Lancaster Composite! See official rules and age restrictions (must be 19 in Nebraska) to participate! The final day for purchase is October 26, 2021. Thank you to everyone that has helped to get this team in position to accomplish great things!