Preseason activities for Lancaster Composite Mountain Bike team kick off April 3rd at the Jayne Snyder Trails Center from 3-5 pm. Parents, athletes, and school teachers/administrators are invited. Students of all abilities entering 6-12th grades next school year are invited to join the team. A team preregistration form is on our website www.LancasterMTB.com.
We asked Liam Fitzgerald, a returning athlete, about his impression of mountain biking as a sport in Nebraska. Here's what he had to share.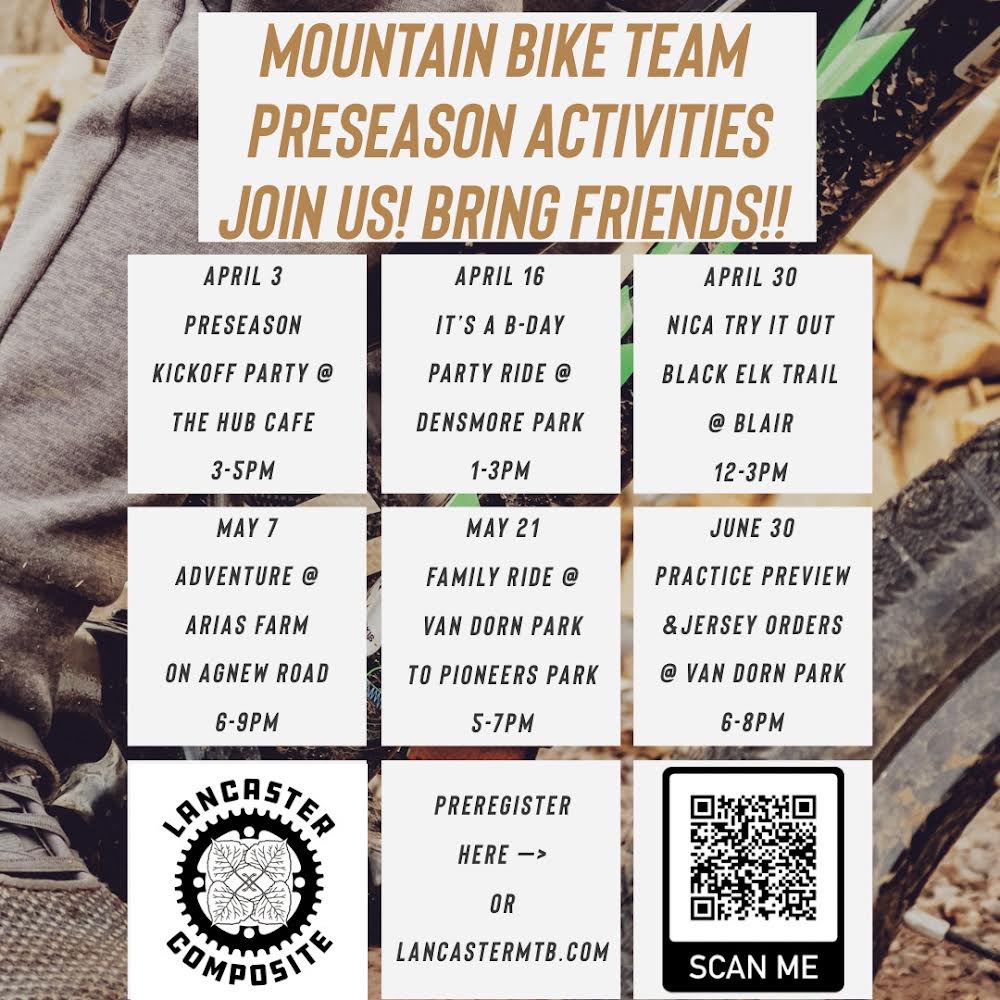 "When people think of sports in Nebraska, they usually think of football or… well mostly football. One sport I know most people would definitely not think of though, is mountain biking. I know, I know, mountains and Nebraska are kind of opposites, but trust me, the mountain biking community has found a way. Take places like Platte River State Park, where new trails are popping up all the time and older trails are being maintained and updated. Or, take even more local places like Van Dorn Park in Lincoln where close to 2 miles of trail is being updated and maintained consistently, and Wilderness Park where there is tons of trail to check out and explore through the woods and fields. This sport/activity is a great way to have a ton of fun, get outside, and meet a bunch of really cool, friendly people.
I remember on my first ever ride I was going around a corner at Wilderness Park, slid out on the dirt, and took a little tumble. Another person riding behind me pulled over to make sure I was ok and helped me and my bike up. I found out after doing this plenty more times that it's not just a select few people who are this nice, the mountain bikers here all kind of respect each other in a way just because of what we do.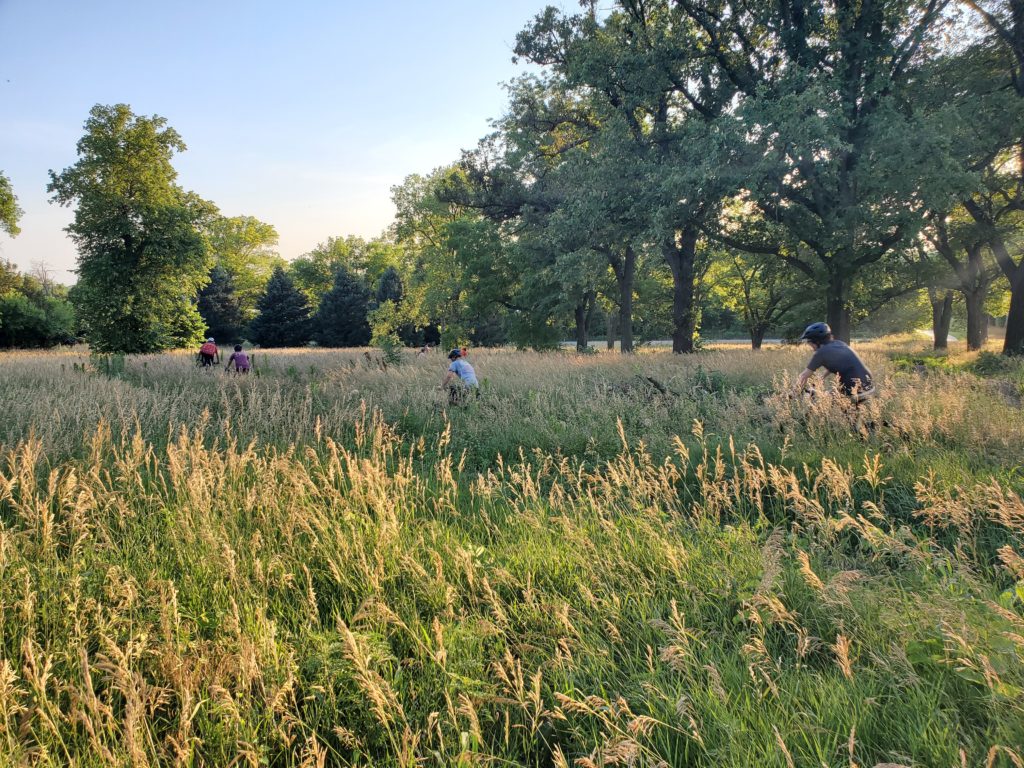 Another awesome thing about mountain biking here is this program for middle schoolers and high schoolers called NICL, short for Nebraska Interscholastic Cycling League which is Nebraska's branch of NICA (National Interscholastic Cycling Association). This national program covers 31 states and more than 25,000 athletes! The program is an awesome activity for kids to do during the summer/fall season. They will meet a very welcoming community of similar aged kids who share the love of mountain biking, serve the community with organized events and trail maintenance, will get to ride at local trails for practices with their team. Practice will pay off in races which aren't required but are suggested for even more fun and group building. The main focus of the program is to get kids to make new friends, try out something new, get outside, go on new adventures, serve the community, and get to love the very welcoming, fun-filled sport of mountain biking."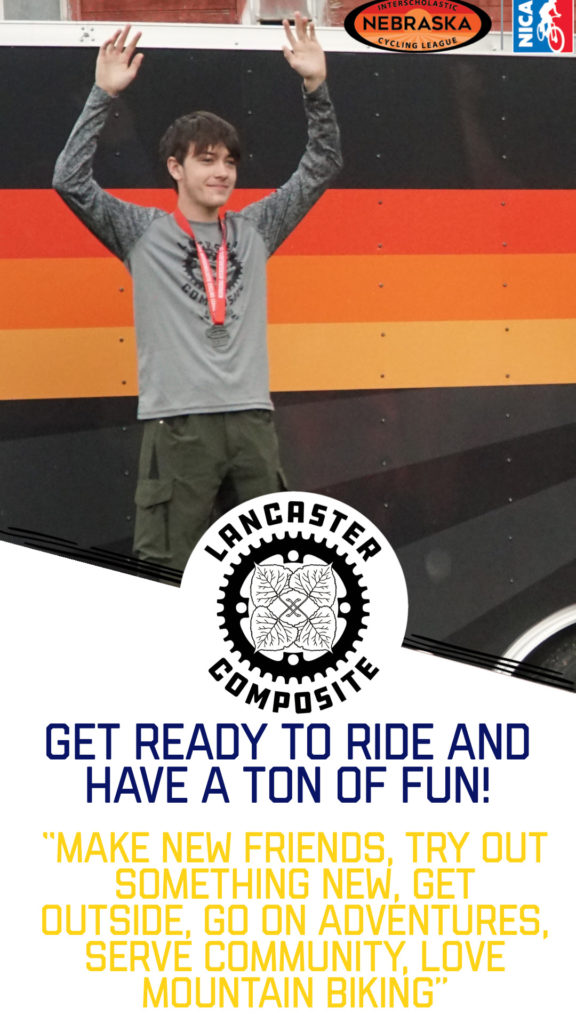 Thanks Liam!
With the growth of the sport in Lincoln and Lancaster County, more natural surface trails will be needed in all sections of the community. NICA programs encourage teams to support their local trail maintenance needs. Last year, 62 hours of trail maintenance were provided plus other community volunteer opportunities. We anticipate providing more than 200 hours of trail maintenance next season. Over time, Lincoln can add more natural surface trails and we'll be there to support them and get kids riding them.
For the coaches,
Coach Jesse