Are you signed up for the National Bike Challenge? If not, register here. If you've participated before, it will ask you to log in. Check to see if your settings and profile are current, and that you've joined the group BicycLincoln. For those of you who may feel a little uncertain and would like to be a better rider, click on "Learn" on the drop-down menu. It has many tips and videos to give you more knowledge and confidence. There is no cost for joining the Challenge. If you want to upload your rides automatically by using an app like Strava and linking it to your Love to Ride challenge account, there is no cost for that, either.
Love to Ride is not sponsoring the challenge to run continuously through Cycle September this year, but that doesn't mean BicycLincoln can't. Be on the lookout for future information.
But first, May is Bike Month.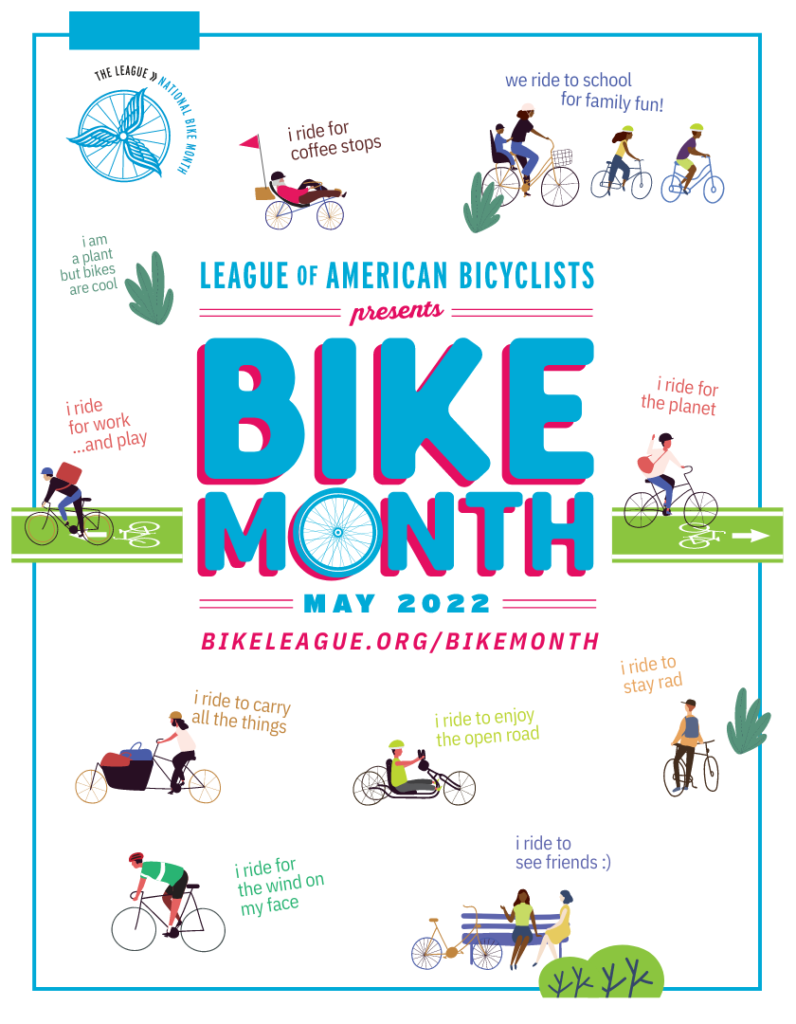 BIKE MONTH 2022 CALENDAR from the League of American cyclists:
Sunday, May 1st is National Ride a Bike Day! The day is annually held on the first Sunday of every Bike Month. To celebrate, simply ride your bike – short distance, long-distance, solo or with a friend! Just get out and get on a bike! Read more about National Ride a Bike Day »
Wednesday, May 4th is Walk, Bike and Roll to School Day! Promoted by Safe Routes to School in coordination with Bike Month.
Monday, May 16th-Sunday, May 22nd is Bike to Work Week and
Friday, May 20th is Bike to Work Day!
Take part in Bike to Work Day events by biking to work, joining group rides, hosting breakfast stations and more. (Stay tuned for BicycLincoln specific activities) Making an effort to #bikethere doesn't have to start or end at biking to work! Pair your bike trip with transit. If you're working from home you can even bike the route to your establishment before or after work. Retired or not working? Bike to run an errand. The possibilities are endless.
Ride a bike any day in May! Can't ride on National Ride a Bike Day, Walk Bike and Roll to School Day or Bike to Work Day? Ride some other day! In fact, you should try to hop on the saddle any chance you get. You can never experience too much bike joy!
May is #BikeMonth. Let's celebrate bike joy: the physical and mental well-being biking brings us and the power of being on a bike that unites us all. #bikethere all this month!
How about playing some bicycle Bingo?
Find out more at https://bikeleague.org/content/how-celebrate-bike-month

Also, looking for somewhere new to ride? The Oak Creek Trail is open again all the way through for the first time since 2019. The NRD re-routed the trail around the erosion damaged area a mile west of Valparaiso.