I'm Andy Pedley, and I'm a founding member of BicycLincoln as well as the current President of the board. My involvement with cycling over the past 20 years has affected my life every step of the way. Not only has cycling been an important part of my physical and mental health, but it also helped me develop a trade and supported me financially. I've made countless memories on bike trips and at events. Cycling has influenced my education and helped steer my career path. But the most impactful contribution that cycling has made to my life has been by the friends and acquaintances I've made along the way. As a community, we've celebrated wins and commiserated in losses, we've welcomed new generations and mourned those that were tragically taken too soon. Each person I've met in the cycling community has enriched my life in some way, and I will always be grateful for the experience. As President of BicycLincoln, I'm proud to serve on a board of thoughtful, community-minded cyclists, and I look forward to continuing our support of the Lincoln bike community.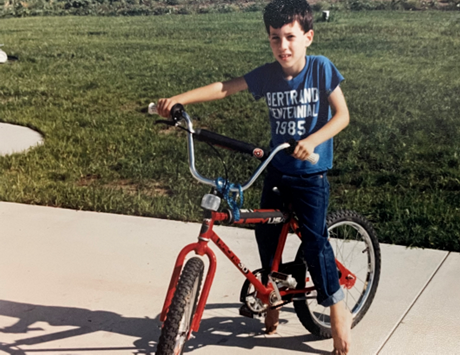 I think I was around five or so when I started riding bikes. Growing up as a country kid, my bike was my ticket to freedom. What might have been a one block trip to the neighbor's house in town was a quarter mile walk in the country. Having a bike was the only way to get around the neighborhood and as I got older, the farther from home I was able to explore. I started with free rein of our street, was soon able to ride around the section, and eventually I was trusted to ride all the way to Waverly. By the time I started driving, I had probably logged thousands of gravel miles on my bike. To me, a bicycle meant adventure, exploration, and excitement for all the places I could go. To this day, I get the same feeling every time I ride my bike.
In 1998, I moved to the UNL dorms for college, and quickly settled into a full-on auto-centric lifestyle. I moved into an apartment across town from both work and school, and I drove everywhere I went. But one day while waiting in traffic, I saw a friend ride past on their way to work. It was a nice day out and instead of enjoying it, I was sitting in my car listening to some mixtape on repeat. I had lost the enjoyment of getting someplace by my own physical power and decided then that I needed to get out of my car and back onto a bike. Within a year I had picked up a used mountain bike, started learning some basic repair skills and began building a road bike from the frame up. As my obsession grew, I realized that the quiet solitude of a bike ride is great for contemplating one's position in life. I wasn't happy where I was.
At the time I was working for a clinical research company. The pay was fine and I got to travel to some cool international locations, but the hours were terrible and I didn't enjoy the work. After some serious deliberation and many long bike rides, I decided to quit my job and move to Omaha to become a bike mechanic. Over my six years in Omaha, I had the privilege and honor of working with and learning from some of the best mechanics I've known. I made lifelong friends in the Omaha bike community and will always look back at my time in Omaha fondly. But, following a disappointing business venture, I moved back home to Lincoln and started working at Cycle Works in 2011.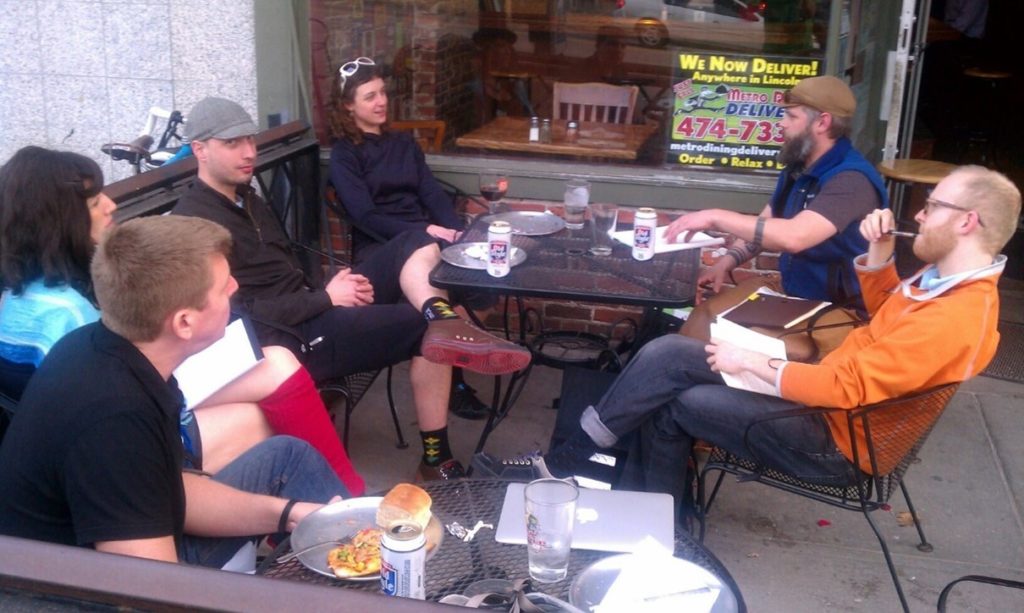 While working at Cycle Works one day in 2011, Damon Hershey and I started chatting about getting folks together to promote cycling in Lincoln. We reached out to a group of like-minded friends and in early 2012, we began meeting in Damon's garage. As we began to hold meetings more regularly, we established a board of directors, and the group became BicycLincoln.
The next year, Damon and I won scholarships to attend the National Bike Summit in Washington D.C. I sat in on some cool presentations from city planners, community organizers and politicians about how bikes can make communities better. This experience got me thinking about bikes from an infrastructure perspective and was the first time I considered pursuing a graduate degree. A year later, I enrolled at UNL to study planning.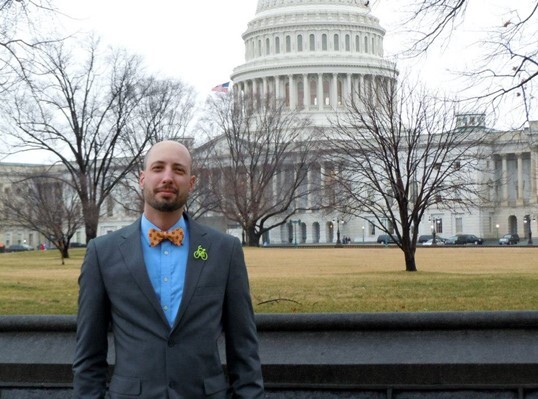 I stepped down from the BicycLincoln board in 2015 to focus on school and rejoined in 2019 after I graduated. When I returned to the board, BicycLincoln was much more organized and established. The board had incorporated and established the organization as a 501c3. They had built a database of contacts, created a social media presence, and continued leading Lincoln's success in the National Bike Challenge. At that time, optimism was high for 2020 and BicycLincoln had big plans.
Then came COVID and BicycLincoln's model of hosting social events was no longer tenable. We continued to meet virtually throughout the pandemic and did our best to keep Lincoln informed about issues impacting cycling in the city. We raised money for the traffic calming mural at the intersection of 11th and B, and we continued to promote the National Bike Challenge.
Now we're working on new projects and researching policy recommendations. I'm proud of Lincoln's success in the National Bike Challenge — we won several challenges over the course of the past decade— but the NBC seems to be losing some steam from its title sponsors. As an organization, BicycLincoln has always had a focus on the social justice benefits of multimodal transportation, and we hope to lean into those efforts in the coming years. I'm confident that honing our focus on policy and local community-building efforts will be galvanizing and inclusive to the Lincoln area and its residents, and I look forward to seeing you on the trails!