A while back I wrote about the concept of the bike bus, which is like a bus route but with bikes, led by an adult chaperone. The most well known bike bus is organized by Alameda Elementary in Portland, Oregon, and was begun by phys. ed. teacher, coach Sam Balto. An interview about it for a segment on the NBC Nightly News last April said:
"Remember being in a bike gang you were a kid? Well, every Wednesday morning in the Portland Public School District, a small trickle of bikes forms around 8:00 am. They call it the bike bus and as it begins to flow through the neighborhood it gathers strength. Teacher Sam Balto is out front. Soon, a massive river of riders has formed. And that is when the feelings begin to overflow. On Wednesdays, the normal bus is mostly empty. How do you convince parents that it's possible to go from one bus to a bike? [he asks Sam] We underestimate how much children love being social. Rain or shine. They're motivated to see their buddies. The effect on them is clear. I could tell you here about the emissions saved by the bike bus, that it takes hundreds of cars off the road, and that it is very Portland. But the thing that sticks after so much stress and sorrow and loneliness the last few years, is watching all these kids floating to school on a vast ocean of joy."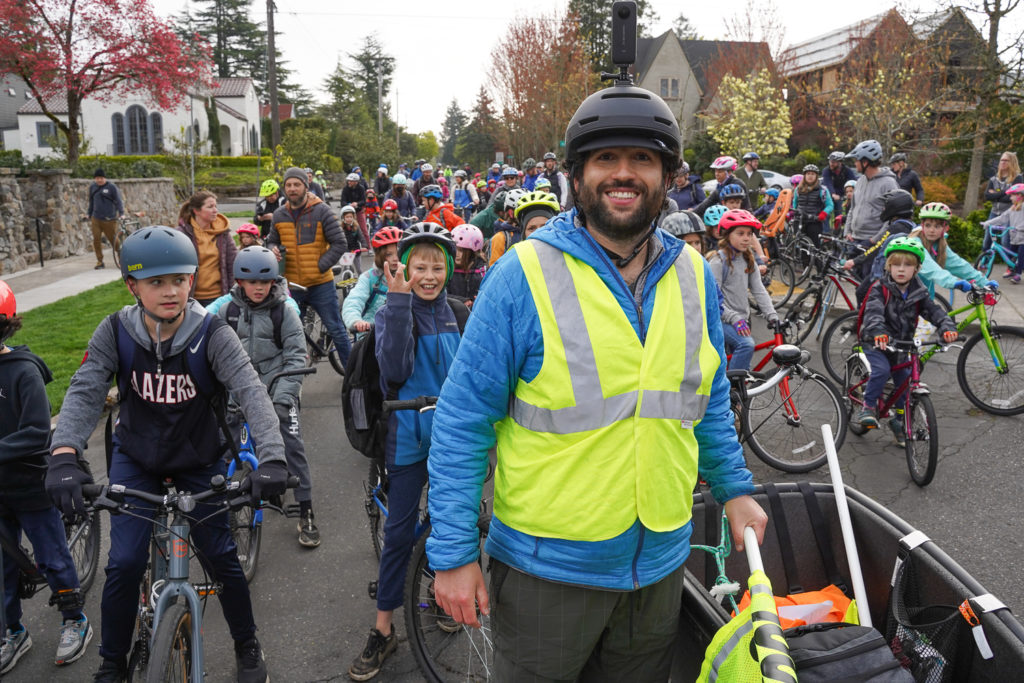 Sam Balto, beaming with excitement due to the big turnout.
(Photos: Jonathan Maus/BikePortland)
A "bike bus bill" has been introduced in the Oregon Legislature. If passed, it would let Oregon school districts use transportation money toward active transportation solutions, allowing school districts to pay bike bus chaperones to help get kids to school, like crossing guards and school bus drivers do. Bike buses provide another safe way to get to school, besides parents driving, or taking buses.
Temperatures here are rising (really!) and now is the time to be making plans if you'd like to bring this concept to life here in Lincoln. Why not talk to your neighbors and local schools to see what it would take to launch this concept here in Lincoln? Earth Day is coming up April 22. That's when the Alameda Elementary bike bus was launched. Could it happen here?