One week is down, but we still have three to go. How much riding can you fit in? Take advantage of the great weather and enjoy riding for fun and commuting, even both at the same time.
Nacho Ride season to Bailey's Local in Eagle officially begins tomorrow, May 9. The MoPac trailhead at 84th St. will be closed through June 3, so don't try to park there. Ride there or park somewhere else.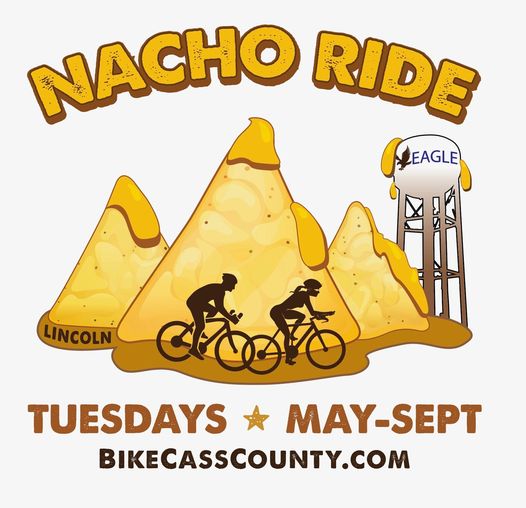 Thursday May 11 is is the second Tour de Lincoln quadrant ride. It will roll out of the Jayne Snyder Trails Center at 21st and Q. The ride continues every Thursday this month, leaving at 6:00, with refreshments 15 minutes before departure. Featured this week is 12 miles of the Northwest trail system. The Tour De Lincoln is sponsored by the Great Plains Trails Network and members of their board of directors lead each ride. No registration is required, and all riders are welcome. Just remember your helmet.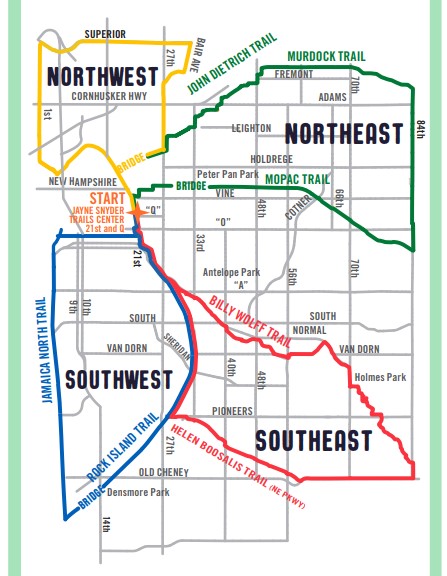 Lincoln's Bike To Work Week is May 15 through 21.
On Monday the 15th, ride by the Telegraph Mill (330 S. 21st Street, accessible from the Billy Wolff Trail and N Street Cycle Track) for a free drip coffee and Pastry from 7-9 A.M. on your way to work.
Tuesday May 16, Nacho Ride.
Wednesday May 17 is the Ride of Silence. Meet at 7:00 at the Jayne Snyder Trails Center for about 12 miles of silent riding, well visible to motorists. This is a nationally recognized ride to bring attention to those riders killed or seriously injured by motorists.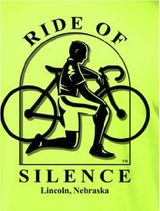 Thursday the 18th meet up for the Tour de Lincoln quadrant ride.
Friday May 19 meet from 5-7 P.M. and celebrate riding to work at the Jayne Snyder Trails Center with cupcakes, music, and drinks available for purchase. Play bike bingo up until the wrap-up party and be entered into a raffle for prizes. Check out the city's event page for bike week discounts. There's even a route planning map to help you figure out where trails, lanes and routes are. gptn.org also has a trails map of Lincoln.

Sunday May 21 is the Prairie to Prairie event for the Prairie Corridor Trail I wrote about a couple of weeks ago. Its a run – bike – run event that begins at Pioneers Park and goes to Spring Creek Audobon Center and back.

I hope you've all signed up for the Lincoln Bike Challenge by tracking your rides on LovetoRide.net. You must create an account, and either manually log your rides or link your ride tracking app; Strava, Map My Ride or the Love To Ride app to your account. To have it count toward Lincoln's challenge, you must have joined the BicycLincoln Club on Love To Ride. All ride types count. Utility rides count as commutes.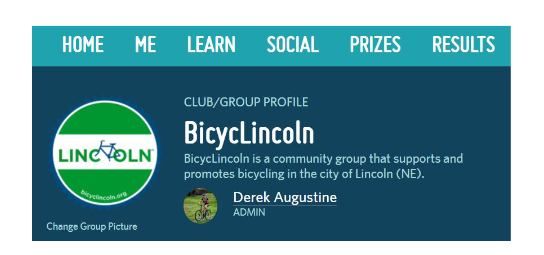 Don't forget about club and shop rides. Great Plains Bicycle Club hosts group rides as does Cycle Works. Other social rides exist as well, so ask around or start your own!

If you're in Omaha, Bike Walk Nebraska has some events, too.
BIKE 101 SKILLS: LEARN-TO-RIDE ADULTS, MAY 18
LEARN-TO-RIDE INSTRUCTOR COURSE, MAY 18
BIKE TO WORK DAY, MAY 19
WEBINAR: EXPERIENCING THE ACTIVE TRANSPORTATION BUILT ENVIRONMENT, MAY 24