Last week's comments about reader's barriers to bike commuting were an excellent reminder about what we need to do to encourage more people to ride, and to ride more often in Lincoln. Here are some of the barriers listed from Bicyclincoln's Facebook page. There are many websites and blogs addressing these issues, and I've included a few.

Lack of shower facilities at work. We would all love to have shower facilities at work, but it needn't be a deal-breaker. There are many websites offering tips on this topic. You may find these 19 tips useful. if your main reason is fear of B.O., check tip# 14. Here, read how shower facilities make cyclists 5 times more likely to commute to work.
Cycling to work saves businesses health care costs. Here are a couple of Bike League articles about how businesses can help support cycling commuters. https://bikeleague.org/how-businesses-can-eliminate-barriers-bike-commuting/ https://bikeleague.org/sites/default/files/Overcoming%20Bike%20Commuting%20Concerns.pdf
And to see how Iowa cyclists are supported, read this: https://www.bikeiowa.com/employer-reference-guide

Lack of safe bicycling infrastructure where needed. Here is a traffic engineer's experience cycle commuting, and also an article from The Dirt, by the American Society of Landscape Architects. It talks about what it's going to take to get above low percentages of bike commuters- hint: "if bicycle infrastructure isn't designed to be safe for everyone — and therefore inclusive of everyone — then "it's not safe for anyone."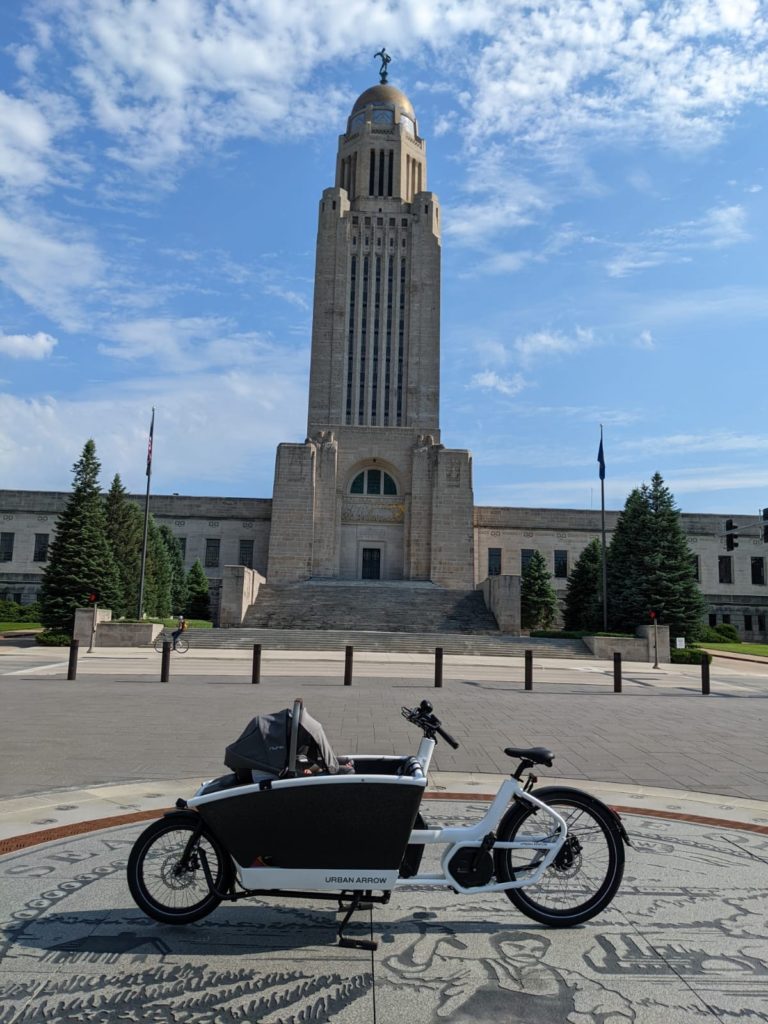 A source for European style (e)cargo bikes in Lincoln. Unfortunately, these must still be ordered on line. If getting an e-assist style, they must have a special permit to ship the battery, and not many outlets do. This bike came from Clever Cycles in Portland.

Secure parking for expensive bikes, at work, at apartment buildings, and at business, shopping, medical, entertainment and other destinations. Know how to properly lock your bike using two u-locks and a cable through the wheels, or another equally effective method, but always lock both wheels and the frame to a rack or non-moveable object. A thief can always steal a bike given privacy and enough time, so make it as difficult as possible. My son's bike was stolen from a locked bike room at his apartment complex in Seattle when the thief gained access overnight and patiently unbolted all the racks from the walls that the bikes were locked to. Employers need to be shown that it's cost effective to provide what cycling employees need to commute and keep their bikes safe. Also, bikes can be added to your insurance policy. Read what one bike reviewer said when his bike got stolen here.
Work-place wellness programs should actively promote riding to work, it's a no-brainer, and part of the workplace's responsibility is to provide secure bike parking. If you work downtown, this secure bike storage is an option, as well as the bike corral: https://www.lincoln.ne.gov/City/Departments/Urban-Development/Park-and-Go/Bike-Storage

Celebrate world car-free day this year, Sept. 22. Some cities worldwide even reserve one day every week as car-free.
More on-street cycle paths for commuters, as trails don't go everywhere. To see what the city wants to implement, read the Lincoln Bike Plan. For the time being, study on-street route maps. Remember that the route you drive is probably not the route you'd want to ride. Choose streets with low speed limits. Here is an interactive route planning guide.
Our goal of Complete Streets is a work in progress, and will take time, money, and advocacy to make it a reality. Most of you don't have to wait, though, you can start now. Unless your route is still too dangerous, in which case you will have to wait a little longer.