From the Cornhusker State Games to the touring cyclist, the weather had the last word. Weather Happens, no matter your plans. After the intense heat, we were glad for cooler temps, but along with big swings in temperatures often comes potentially dangerous weather. A friend doing the State Games 100 mile tour saw he and his buddy get blown to the other side of the highway in 80 + mph winds, where they hunkered down in driving rain for more than an hour. There was a nearby tornado, lightning, and then they were menaced by large dogs who took offence at their presence. Upon resuming the tour, they found out from a roving sag wagon that it had been cancelled. Other friends racing in the State Games gravel grinder waited out a long rain delay, and titled it the soggy bottom ride. There's nothing quite like a long ride in a wet chamois.
We were awaiting the arrival of a Warm Showers guest, who happened to be a long-ago roommate of Steve. Warm Showers is a bicycle touring support organization in which touring cyclists can stay at the homes of other members for free. Hosts don't need to be cyclists, though most probably are. The old roommate had to wait out the storm in Columbus before getting underway around noon. This was his third coast-to-coast ride. He'd done the northern route for his 60th birthday, the southern, in segments over a couple of years due to unforeseen circumstances, for his 65th, and this, the middle route, for his 70th birthday. He was riding his old Motobecane Mirage he bought in 1976, with 32mm slicks for tires. These do not do well with sand and loose gravel. Where he lives in Tennessee, he claims there are no gravel roads, so he's never caught the bug for it and didn't know gravel was a thing. He's avoided limestone trails and roads where possible, and claims most of the trails in the country where he's cycled are paved. He prefers taking highway shoulders, when available. He carried remarkably little for someone touring, but you learn how little you need when you have to carry it with you. There was a sketchy 100 mile stretch in Wyoming with only one water source at a rest area at the 50 mile mark, so that needed to be covered in one day, as he only carried three bottles.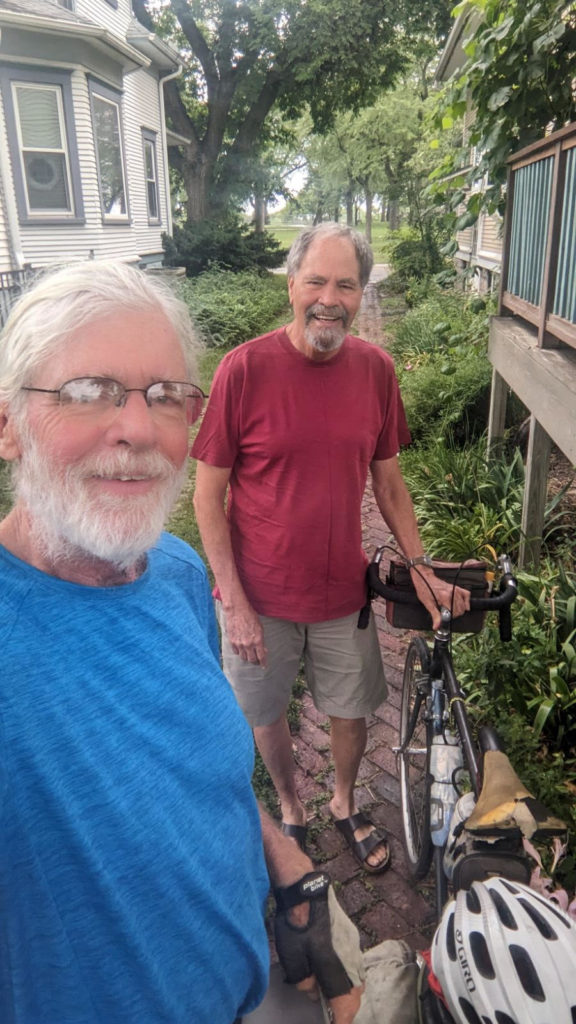 He said cell phones have dramatically changed the nature of touring, with the ability to stay constantly in touch with family and to make contacts. I understand that well, having been a Peace Corps volunteer in the 80's when a letter was as good as it got, not even having access to a phone to make a call.
He rolled out on his way to Omaha around 9, much later than usual, and arrived at his Warm Showers host near the Bob Kerry bridge around 5, having encountered unforeseen road construction on the route he'd chosen. He stayed with a WS host in Chadron, but had mainly been camping along the way, there being few hosts in the more sparsely populated areas west. He was pleasantly surprised that every small town seemed to have a city park where one could camp for free with a well maintained public restroom. Motorists were friendly, and moved over when there was no shoulder.
With all the bad press that motorists get in the cycling community, it's good to see that there is some Nebraska Nice for us out there.