Lest you think that it's nearly time to put your bike away, be aware that Fall is arguably the best time of year for riding. Just because the annual bike party comes up after the Lincoln Bike Challenge finishes at the end of this month, doesn't mean there's no motivation to ride more. (There are only a few more weeks to get your challenge miles in, if you've forgotten.) Here I've included some of the upcoming bike events. I'm sure there are more local and regional events that I'm missing.

Goldenride Bikefest 09/8-10. A fundraiser for Bike Walk Nebraska. Ride down the Homestead Trail from Lincoln to Beatrice, camp and have more fun, then ride back the next day.

Bikes Bites and Bison 09/10. A fundraiser for the Pioneers Park Nature Center. Enjoy a scenic ride, free food and drinks and awesome specials at some of Lincoln's most popular establishments.

Pony Express 120 Gravel Dash 09/10. 30, 75 & 125 mile Gravel Grinder out of Marysville, Kansas. The Vintage Bicycle exhibit at the Lee Dam Center for Fine Art sounds awesome!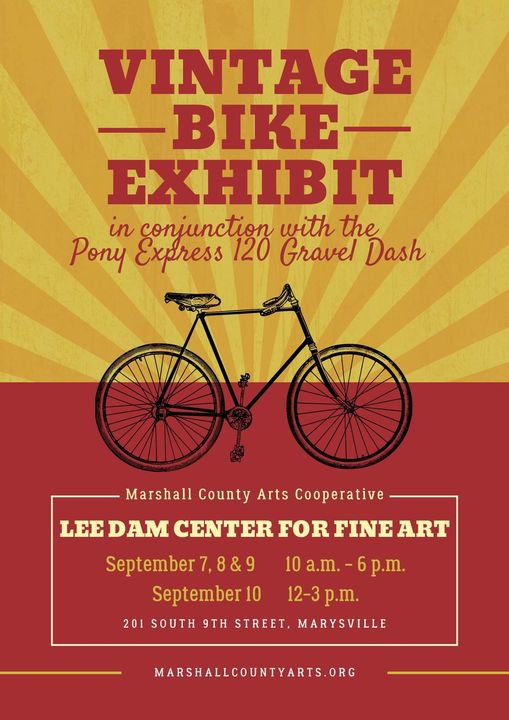 Homestead Cycling Tour 09/16. Four distances to choose from. Ride the Chief Standing Bear Trail out of Beatrice.

Glenwood Gravel Grinder 09/16, 50 and 100 km distances. Just across the river in Iowa.
Randy's Ride: Year 6, 09/24. 67, 37, or 9 mile rides. Your $5 donation goes to the Randy Gibson Fund at the Lincoln Parks Foundation for Lincoln trail projects, Nebraska NICA, or the Adventure For All Fund.

Gear Grinder, Fairbury, 09/24. 14, 26, and 37 mile distances, plus a Kid's Joy Ride.

Group ride down the Jamaica Trail 09/30. An easy roll down the Jamaica Trail with frequent stops to discuss the sections of Wilderness Park you'll be riding through. Park Blvd. to Saltillo and back again.

Omaha Jackrabbit 10/01. Takes off out of Blair, with 100km and 25 mile routes. Gravel, rocks, pebbles, dirt, sand: these are all things you'll find passing for roads in the hilly terrain and pancake flat river bottoms north of Omaha.

Bohemian Sto Mil 10/7. Sto mil means 100 miles in Czech. One of our favorite, and also toughest events, takes place in the "Bohemian Alps" around Prague. Option to camp out the night before.

East-West Gravel Groveler 10/14, Ashland. A rivalry between Lincoln and Omaha fuels this 49ish mile race. 100% of the proceeds support Wear Yellow Nebraska's cancer fighting and cancer patient assistance programs.
Nebransas Gravel Grinder, Gilead Edition 10/21, Fairbury. 30ish and 65ish mile routes. Small town stops. $25. registration goes toward putting a new roof on the 100+ year Pioneer Inn in Gilead, blown off August 25.