Every year I find myself writing again about how to stay comfortable riding in cold weather. There are innumerable articles and blogs out there dealing with how to do it. The writers obviously do not all live in the same state we do. Some claim winter conditions that barely make it down into the 30's and others understand winter to mean 0 degrees. Then there's the wind. We had better have a wind-proof layer in the mix, and take seepage into consideration. Icy fingers up the ankles, waist, wrists and neck can definitely make it harder to get comfortable. Your face will probably be happier with a (breathable) balaclava and ski goggles along with your thin cap on very cold days. I've seen people with face masks on when it's barely dipped below 50, but if that's what it takes to be comfortable, hey, I won't judge. the wind won't dry out your skin as much. It's also nice to warm the breath a little before going straight into the lungs. Be aware your exhalation may quickly fog your glasses without ski goggles or another set-up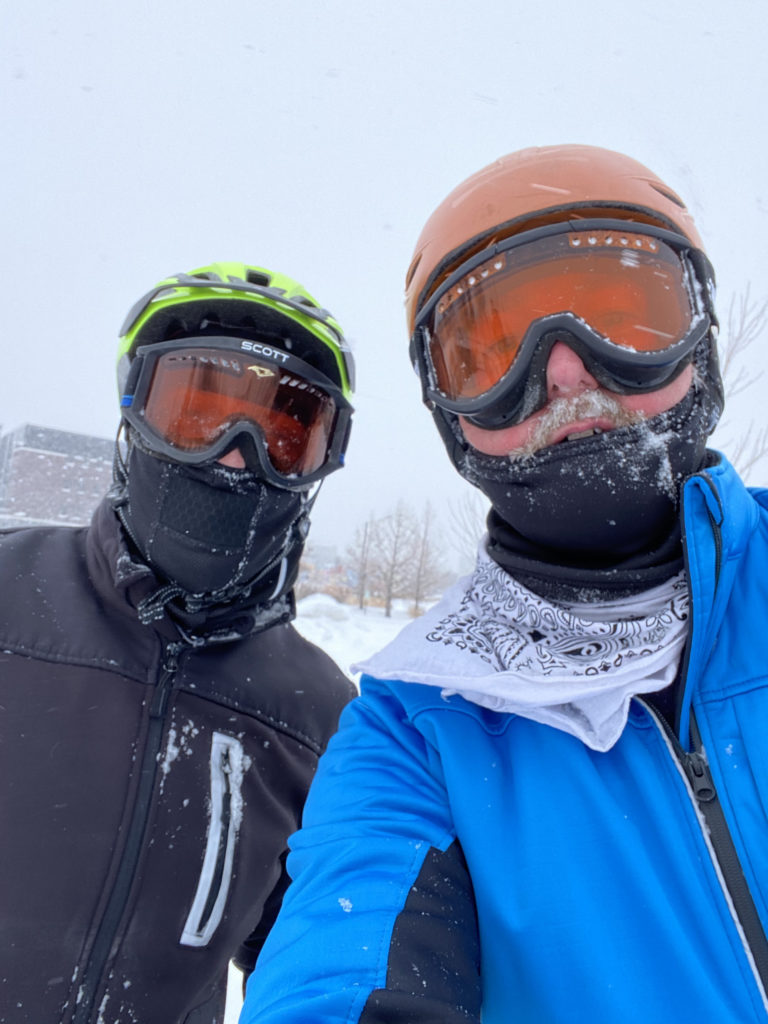 .Jamie and Brion
Then there's the challenge of keeping the hands and feet happy. People vary in their needs, but I find the amount of time spent on the bike to be an important factor. Commuting around town is one thing but being out continuously for hours calls for different strategies. This is when old tricks like putting your feet in plastic bags or aluminum foil and your hands in plastic surgical gloves under your regular cold weather gear can really make a difference. Some believe winter cycling shoes do the trick, others, shoe covers, some, a combination of both. Don't be tempted to layer your (wool) socks. That will make your shoes tighter and feet colder rather than warmer. The same goes for gloves. Bring an extra pair of dry gloves and socks for a mid-ride swap-out if you're one of those whose hands and feet start getting damp. We're all different. Some of us love our handlebar pogies and lobster claws, others hate them.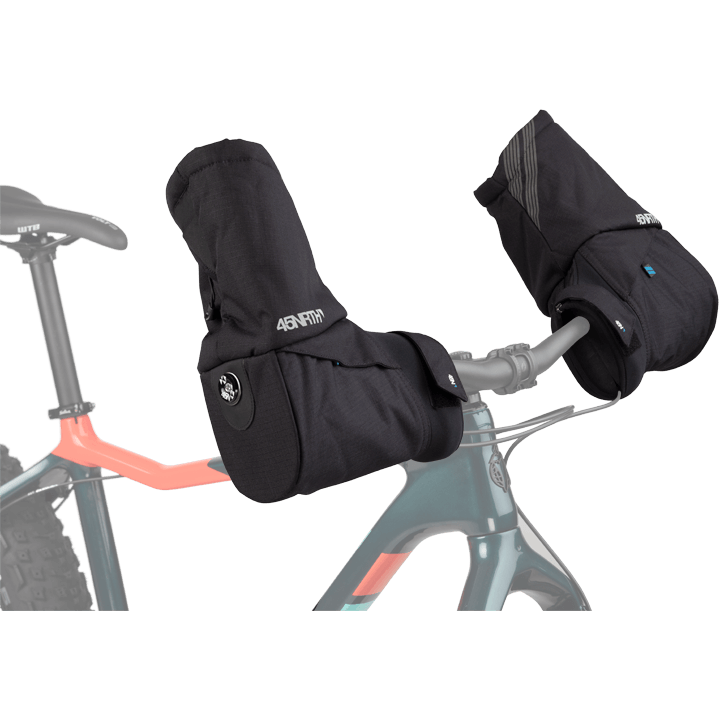 Above: Pogies
You don't need cycling specific layers. Many have base layers, thermal layers, and outer shells already that will work for cycling from other outdoor activities. Just remember- no cotton or other fabrics that will hold moisture next to your body. Use fabrics that will wick away sweat. Many prefer merino wool because it can get wet but still insulates. Dress for 10 minutes into your ride, in other words, you should be chilly when you set out. Dress any warmer and you will soon be sweaty, and sweat will chill you. If your commute is only 15 minutes, do what you will, but you had better have a place for your clothes to dry out before your trip home.
As for your bike, you'll want to keep that snirt and muck from the road surface off of your bike and back-side, so do use fenders of some sort. There are clip on styles, if you don't want to bolt them on. Use a heavier weather-resistant chain lube, and keep that chain wiped off to keep it from rusting.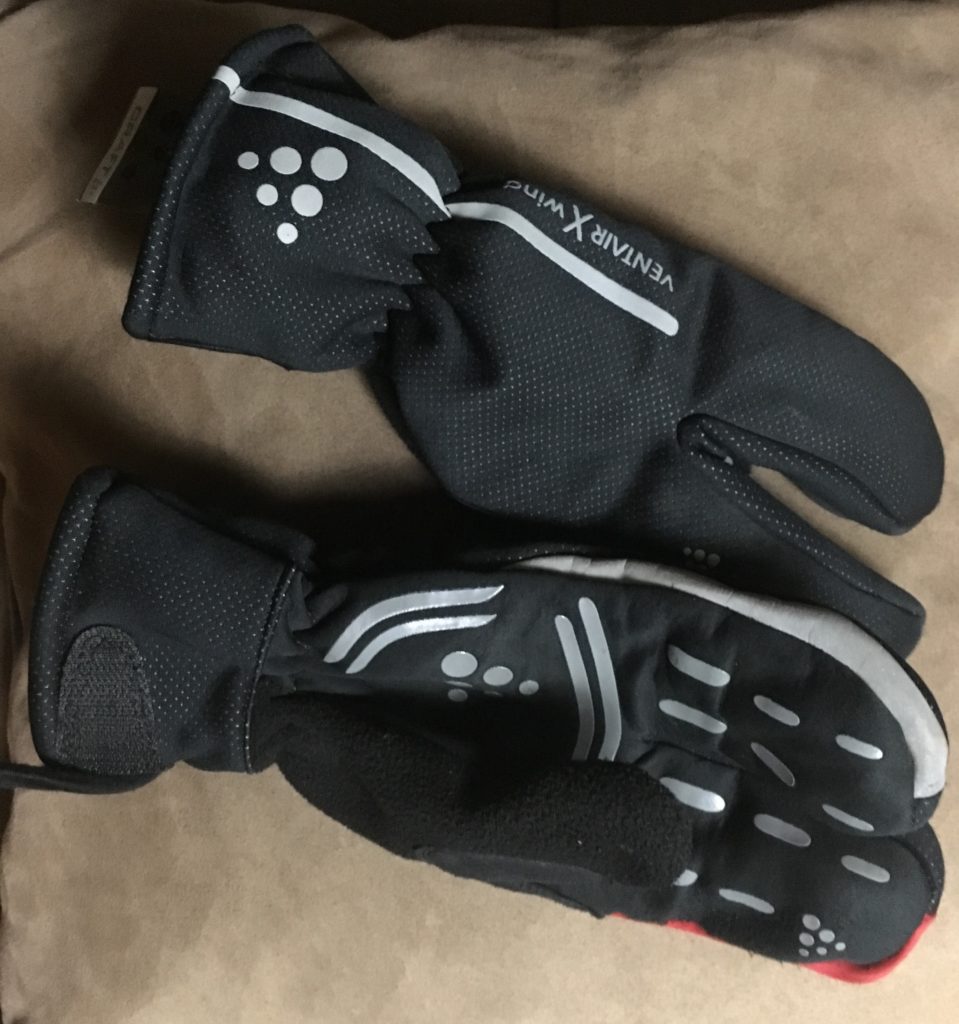 Lobster claws
To keep your water from freezing, start with hot water in an insulated bottle, or a Camelback under your outer layer. Water can still sometimes freeze in the tubing. Also, don't forget to use lights if you're out in the darker morning or evening, and reflective gear.

People are resourceful and come up with DIY tricks for many of the challenging aspects of cold-weather riding. Who knew that getting large, insulated water-resistant socks from a farm supply store, cutting spd-sized holes in the bottom, and wearing them over cycling shoes for warmth would be a good hack? Or that hand warmers made of rice tied into an old tube sock and heated in the microwave (next to a cup of water) and then put in your Bar Mitts could keep your hands warm long enough to get to work when the wind chill is 40 below zero? Many Zip ties around your tires, so long as you have disc brakes, can give you traction if the streets have turned icy and you don't have studded tires. Have you discovered any good strategies that you'd like to share? Let us know.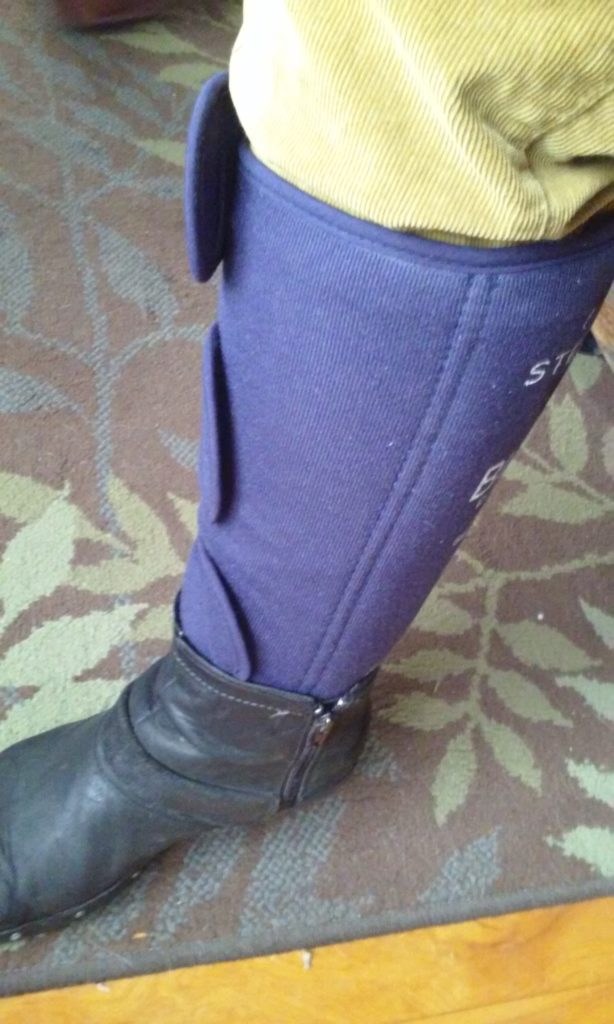 Repurposed surgical calf-compression cuffs make great leg gaiters.
Many of us find that riding outside in the winter is still fun and just what we need to counteract the winter blahs. Exercising out in the fresh air and sunshine even in cold weather is well worth the effort and the extra time it takes to suit up. The biggest barrier may not be the weather, but the idea of it. Start small and give it a try. It can open a whole new season to riding if you learn what to do and what to avoid.