Closures of Jamaica North and Wilderness Trails Begin November 1
Published on October 30, 2023 (from city website)
If you've been on the Jamaica North trail lately, you may be confused as to why there's a trail closed sign at the GPTN bridge and the 14th St. crossing. The following is from the City's website: "Beginning Wednesday, November 1, segments of the Jamaica North and Wilderness Park trails will be periodically closed for stream stabilization improvements at two bridge locations on Salt Creek. The trails will be closed from 7 a.m. to 5:30 p.m. Monday through Friday and will be reopened evenings and weekends. (emphasis mine)
The work areas are as follows:
Jamaica North Trail – The trail will be closed between 14th Street and the Great Plains Trails Network Connector Bridge at the Rock Island Trail.
Wilderness Park Red and Green trails – The hiking/biking/equestrian trails west of Salt Creek will be closed between wayfinding posts 50 and 51, approximately one-half mile south of Warlick Boulevard.
Trail users are advised to follow on site signs and notices and to utilize alternate trails within the area until construction is complete. Access between the Rock Island and Jamaica North trails will be maintained throughout construction. Trails are expected to be fully open in January 2024 depending on weather conditions.
Stream bank stabilization repairs are being performed by the Lower Platte South Natural Resource District. For more information on the project, contact McKenzie Barry at [email protected]. For more information about Lincoln trails, visit lincoln.ne.gov/trails"
Also, in case you weren't aware: "In 2021, Lincoln Parks and Recreation was awarded a $310,500 Land and Water Conservation Fund grant to extend the Rock Island Trail from the new Great Plains Trails Network Connector on the east side of the park near Densmore Park, across Salt Creek on an old railroad bridge and to the west side of the park. This will create a link between the east and west sides of the park. Construction is anticipated in 2023." Work on the west end of this project looks like it might be underway.

I know some riders of Wilderness Park would like to keep the trestle over Salt Creek exactly as it is, but efforts will be made to maintain some of the specialness of "Danger bridge." By using cable/wire railing the view from the trestle will be as unimpeded as possible. Apparently the surface will be concrete. This will allow more people to access the less-used west side of the park. Also, near the corner of Rokeby and Highway 77, a new bridge will be installed over a tributary in the corner of Wilderness Park,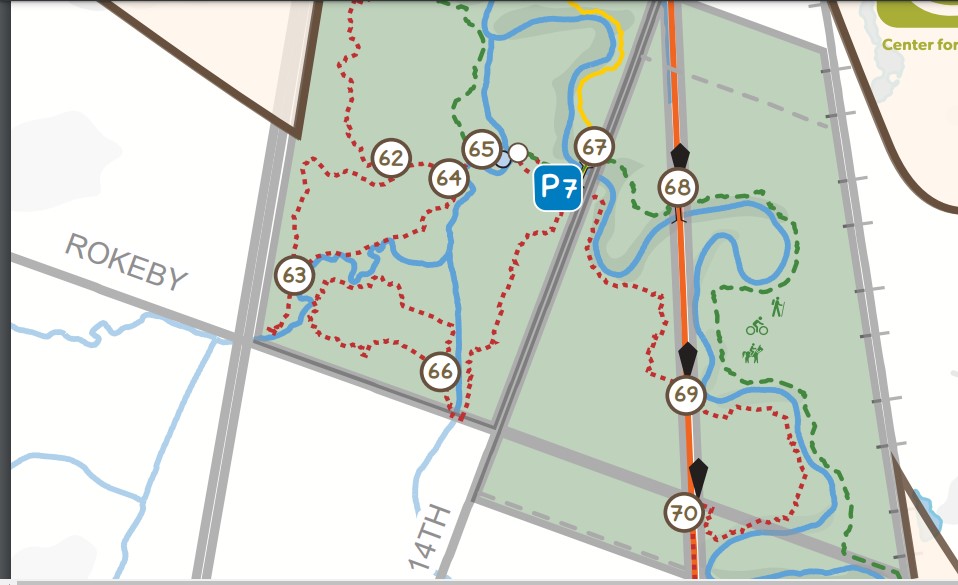 Detail of the map found on the City website.
If you have ridden on the west side of the park, you may know that there is a low water crossing that is just south of "Danger Bridge" and trail marker 51 on the west side of the park that can be a challenge to traverse. A culvert is planned for this site that will make this crossing less dangerous.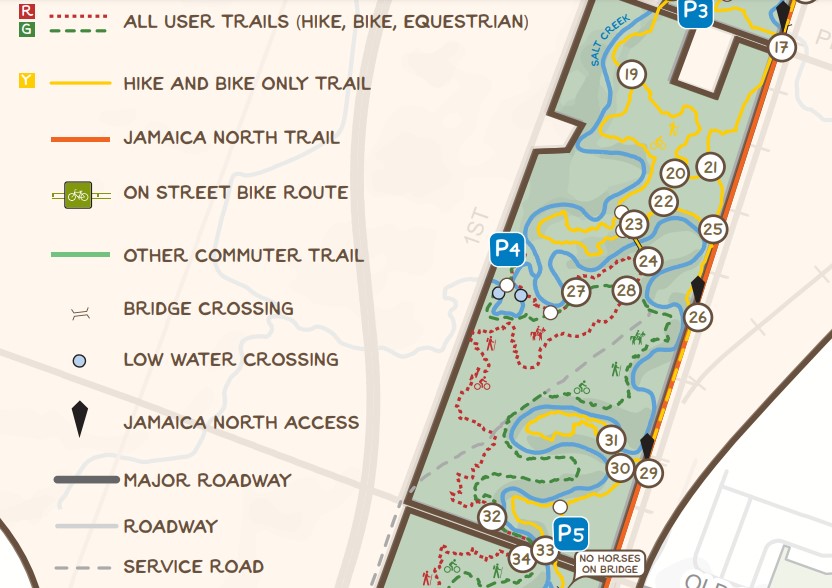 Bit by bit, progress is being made to create and enlarge the Salt Valley Greenway system, of which the Prairie Corridor is a part. One day a trail will connect the west edge of Pioneers park with Spring Creek Prairie and Conestoga Lake. With more greenway, hopefully, we'll be able to create more trails.