As the number of people hitting the trails rises with the temperature, take a moment to check to see that your seat or frame bag is re-stocked with some essentials. I was reminded of this when out helping prune overgrowth yesterday on the trails at Branched Oak Lake. Lucky for me, I was with mountain bikers who came fully prepared with first aid kits and training. Because it's mountain biking. To quote the Black Knight of Monty Python fame,"it's just a scratch."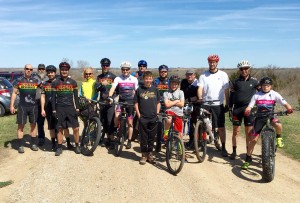 I had some band-aids, but really, a little more in the handlebar bag was called for for this one. Antiseptic wipes would have been nice, some antibiotic ointment, too, and larger bandages. What you carry may be tailored to where you're riding, but even just out on the limestone trails I've heard of people crashing and getting scrapes down to the bone, then having to ride back. Another person I know had a fair amount of skin ground off on gravel, and of course many others have suffered road rash and general scrapes and contusions. You may find you need to reapply sunscreen so a small tube of that might be called for. I've seen sunburns already this year. All this of course has to fit with your extra tube (of the right size), patch kit (not dried out or too old), tire lever and mini pump and/or CO² cartridge. Also, a bike specific multipurpose tool, and a few other items such as a chain break may be necessary (just make sure you know how to use it) along with water, and a snack if you're riding more than 20 miles.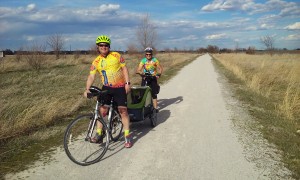 I remember last summer when a few friends of mine decided to spend the afternoon on the limestone only to have the ride cut short because two of them hadn't checked their tire condition in a few years(!) and they had become dried out and cracked, leading to split tires and flats it the middle of the ride. Especially if you haven't been on the bike for a while, take a few minutes to check that your brakes are working properly, the chain is clean and oiled, and tire pressure is appropriate. You may find it needs a tune-up.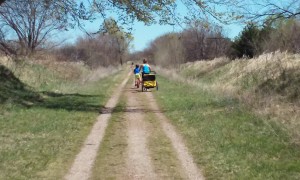 Meanwhile, I hope you are all out enjoying the wild plums in bloom, which I think is the best scent on Earth. It's wafting all along the Murdock, Mopac, John Dietrich connector, upper Billy Wolff, and Rock Island trails, not to mention the Jamaica, Bison, and another trail we're not supposed to be riding on at this time. It really is beautiful out there, so I hope to see everyone getting some warm-up miles logged and getting psyched for the start of the National Bike Challenge May 1st. Come out for the grand opening of the N Street cycle track on Earth Day, April 23rd while you're at it to show we love our trails.